THIS WEEKS GOAL FROM 5/8/12 THRU 5/15/12 IS A TOTAL OF $4550.00 OR AIRLINE MILES FOR JOE, KOLYA & NICOLE'S FLIGHT AND TAYLORS RETURN FLIGHT HOME. YES KOLYA IS GOING WITH! HE HAS WAITING SO LONG FOR A SISTER AND HE AIN'T MISSING THIS!
We are breaking it down to weekly goals to meet in order to tackle one area at a time of the adoption. Will you help us meet that weekly goal? Kolya's birthday is May 15th and he asked us to adopt "Taylor" and bring her home for his birthday! Can you help us make this happen?
We want to share with you the remaining expenses we have left to fund Taylor's adoption. We want everyone that helps us and her by being in prayer and/or makes a tax-deductible donation to follow us every step of the way. We could not do this without you!
We have already paid for the complete dossier and again it is submitted in country. So we have no time to loose! We are in need of raising a total sum of $26,000.00 to bring her home.

If you would like to make a tax-deductible donation towards our weekly goal for our travel to bring Taylor home please click on either image or "donate" button below. WE CANNOT THANK YOU ENOUGH!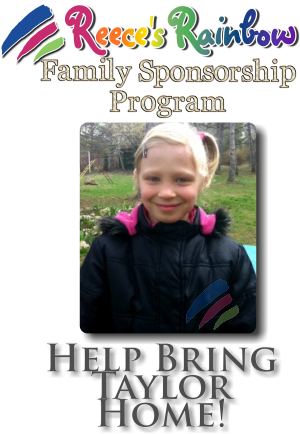 Grab This!
Be sure to right click on the box below and then select all.